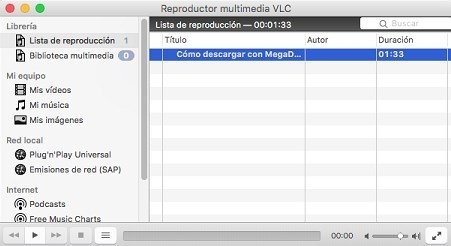 Download Free VLC Media Player 3.0.12.1 – Download for Mac for free
If you ask what is the best media player that you can download for free, many people will probably give you the same answer: VLC Media Player. And that should not surprise you as it is capable of playing most multimedia formats available, including the most exotic, as well as DVD, CDS audio, VCD, streaming protocols …
In addition, this player comes with versions for different platforms and operating systems other than Mac, such as iPhone, Android or Windows PC, and is is considered to be the most stable and flexible tool of all. This put him ahead of other players because he is also able to play corrupted files, among other things.
And it is not only versatile because of its ability to play videos but also because, although its latest version runs on macOS 10.6 and above, it also offers other versions that can be used in previous versions, such as Leopard, Tiger, Panther, Jaguar , Puma or Cheetah.
Key features of VLC for macOS
Its functions are the widest that can be found in software of this kind:
Wide compatibility with dozens of different audio and video formats.
It comes with its own encoders, so we do not need to download updates.
Support for different subtitle formats.
Identification of various audio video channels.
Ability to play incomplete or damaged files.
Built-in streaming server and client for offline video streaming or playback.
Apply video filters to create different effects and distort the image.
Support for skins and extensions.
What formats can VLC play?
This is one of the most important aspects of choosing a player, especially if we have to play a rather unusual file format, mainly because most media players can only handle the same old AVI and MP4 formats:
Video formats: MPEG-1/2, DivX, MPEG-4 ASP, DivX, XviD, 3ivX D4, H.261, H.263 / H.263i, H.264 / MPEG-4, AVC, Cinepak, Theora, Dirac / VC -2, MJPEG (A / B), WMV, VC-1 1, QuickTime, Digital Video, On2, Indeo Video v3 and Real Video.
Audio formats: MPEG, MP3, AAC, Vorbis, AC3, E-AC-3, MLP, DTS, WMA, FLAC, ALAC, Speex, MPC, ATRAC 3, Wavpack, Mod, TrueAudio, APE, Real Audio, A-Law, AMR , MIDI, LPCM, ADPCM, QCELP, DV Audio, QuickTime and MACE.
Image and audio transmission formats: UDP / RTP Unicast and Multicast, HTTP, FTP, MMS, TCP / RTP Unicast, DCCP / RTP Unicast, DVD Video, VCD, SVCD, Audio CD, DVB and MPEG. Which can be transmitted in the following formats: MPEG, AVI, ASF, WMV, WMA, MP4, MOV, 3GP, OGG, OGM, Annodex, Matroska (MKV), Real, WAV, Raw Audio, RAW Digital Video, FLAC, FLV (Flash), MXF, Nut, Typical MIDI and Creative Voice.
Subtitle formats: DVD, text files, Vobsub, USF, SVCD, DVB, OGM, CMML and Kate.
Label formats: Comment ID3, APEv2 and Vorbis.
Customize it to your liking
One of the main advantages of VLC is how sober its design looks. However, you may like bright colors and high performance designs, so you may want to make the most of its function to apply skins. You can find all kinds of it as it is a successful open source development and, as usual, has a huge community of users willing to collaborate on its evolution.
Many users also share their own extensions for enhancement or add functions that are missing by default to this player.
What's new in the latest version?
Fixes bugs and some security bugs.
Download Last Version: VLC Media Player 3.0.12.1 – Download for Mac for free
Free 2021
Download tags: #VLC #Media #Player #Download #Mac #free