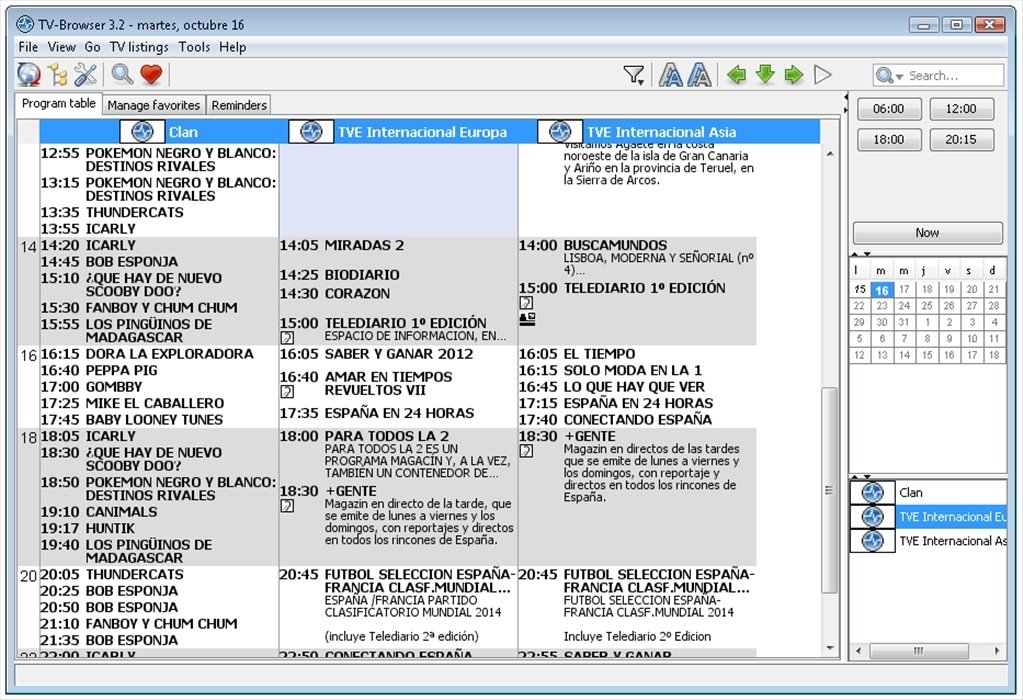 Download Free TV-Browser 4.2.2 – Free download for PC
Television is still the medium used by most people, which is not exempt from some of the problems inherent in digital television channels, such as the fact that it has become almost impossible to know what is in each channel. TV browser is a program that displays the TV program for a selection of different countries at the same time, along with complete emission information.
A digital TV guide.
The large number of TV channels that exist make it impossible to watch detailed TV programs. With TV browser you will not miss your favorite program again and you will always know what is on TV.
Characteristics
Digital TV program.
Compatible with more than 1,000 channels.
Check program data such as duration of specific programs, age scores, etc.
Customize the interface with new skins and icons.
Add all kinds of add-ons.
Export the data to use it with Google Calendar or Outlook Calendar.
Launch programs for viewing and then with Zatoo.
TV on request
When you start using TV browser it should choose which channels you want to follow, although this is something that can be changed whenever you want. After downloading the data you will be able to check and configure your favorites and as many alerts as you want.
Do not miss any of your favorite TV shows. Download TV browser for free and create your own tv guide.
Download Last Version: TV-Browser 4.2.2 – Free download for PC
Free 2021
Download tags: #TVBrowser #Free #download