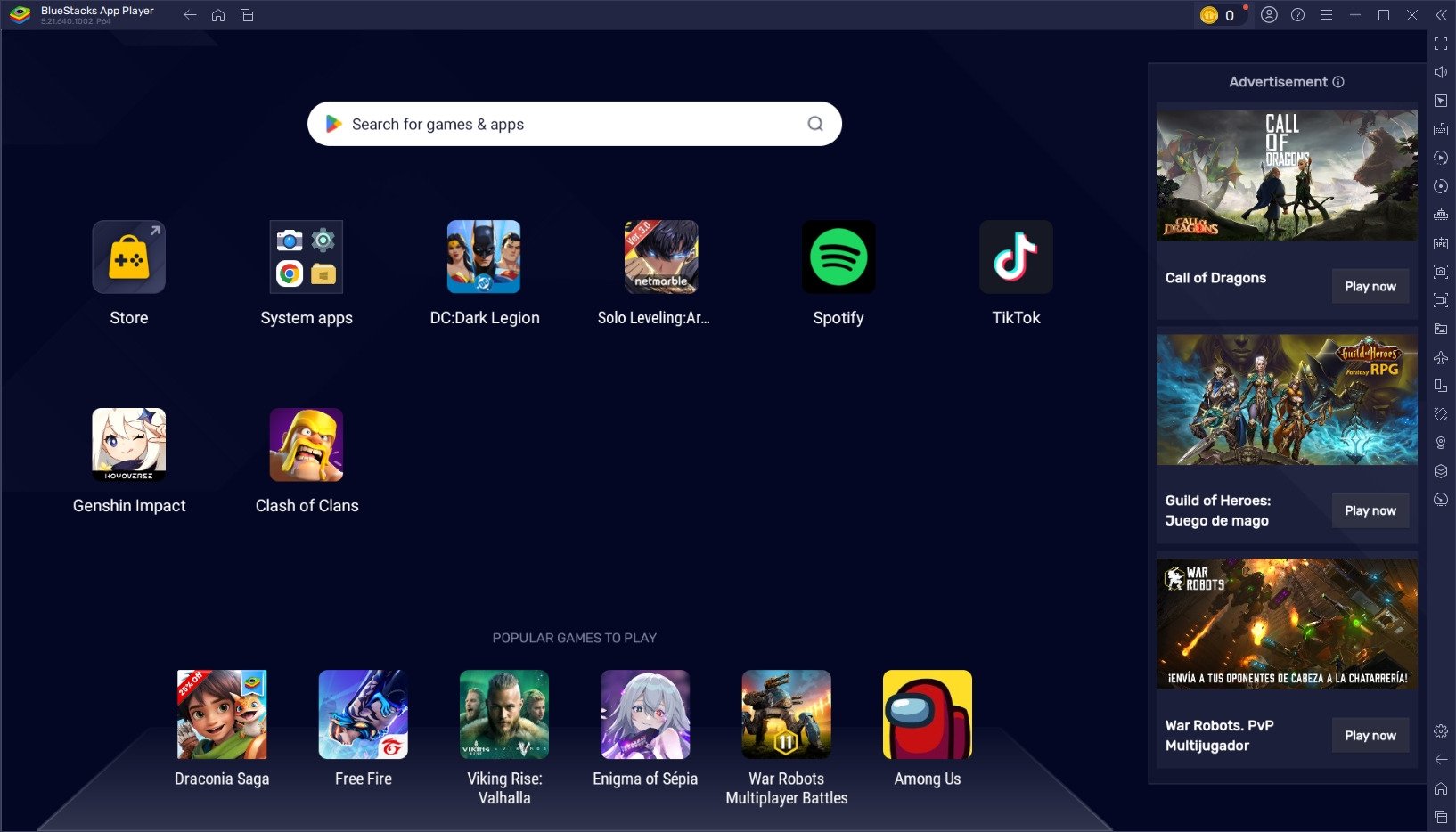 Download Free BlueStacks 4.260.0.1032 – Free PC Download
The Android mobile operating system and its official app store, Google Play, offer us a lot tools, games and applications for use on our smartphone or tablet. There are millions of applications available and they cover every kind of need we may have on our mobile phone.
Millions of Android apps are available for Windows.
But what if we wanted to use these same applications in Windows 7, Windows 8 or Windows 10? Well, the easiest thing is to resort to an Android emulator, as is the case here Blue stacks App Player, from where we can launch any APK on our computer so we can play mobile games like Pokémon GO, Clash of Clans or Candy Crush Saga or apps we usually use on our smartphone like Snapchat or Instagram.
Main characteristics
Simulation of Android games and applications.
Camera integration for use with apps like Snapchat or Instagram.
Supports ARM and x86 architectures.
Integration with microphones, mouse, keyboard and multi-touch screens.
Run APK with double click.
Bluetooth support to speed up file transfers between computers and phones.
Mirroring on other devices, such as televisions.
Sync with Google Play user services.
Take screenshots.
Ability to synchronize with your phone via Blue stacks Cloud Connect by entering a PIN number.
Portable version that does not require installation.
BlueStacks vs. competition. Better than Andy or YouWave?
Obviously not the only Android emulator for PC. There are many more alternatives for running applications and games designed for the Google operating system on a Windows computer. Among the most popular features, we should mention Nox, Genymotion, Andy or YouWave. But is it better than these other alternatives?
The option we offer you is the easiest to install any kind of Android application on our computer, but it may not be the most indicated for specific configurations. Although it is equally valid, it can be more suitable for using Andy to imitate gamesand also offers other advanced features, such as the ability to receive push notifications from applications on our desktop.
On the other hand, YouWave focuses on the technologically advanced users that are seeking a complete experience when talking about an Android device, with access to the full user interface and the ability to rotate the screen as if we were operating a real phone. However, it has a big problem: it is not free.
How to play Pokémon GO on your PC with BlueStacks?
As we have said before, to be able play mobile games on PC with mouse and keyboard is one of the biggest advantages of this type of software. And being able to play the most successful title of the year, as with Pokémon GO, is also possible with this simulator. But not only will you be able to play the Niantic title, but you will also be able to fool him into thinking that you are actually traveling the world chasing Pokémons. You just have to follow these instructions:
Step 1: Download Blue stacks and install it on your computer.
Step 2: Turn off the device camera from the registry editor.
Step 3: Root the simulated device thanks to an application like KingRoot.
Step 4: Install the Lucky Patcher.
Step 5: Keep a decent location spoofer like Fly GPS.
Step 6: Download and install the Pokémon GO APK.
Step 7: Perform Fly GPS in special mode and select your fake location.
Step 8: Start catching Pokémons around the world without leaving your couch.
Now that you know, you are probably wondering where download this emulator to your computer. Look no further, here you can find a link to get the latest and fastest version of this emulation software.
What's new in the latest version
Blue stacks 4 means one significant improvement on Blue stacks 2 and more Blue stacks 3 and 3N. On the one hand, the technology used allows us to make the most of our computer's performance in terms of graphics. On the other hand, it also allows us to run multiple Android applications at the same time, almost doing a lot of work. Nor can we forget that it has managed to adapt the most modern mobile games, such as MOBA and Battle Royales, offering us custom keyboard and mouse combinations that perfectly recreate the native controls of these two genres, making the experience of playing in Windows almost the same something like this from our smartphone or tablet.
Simpler. Faster. More powerful.
So many users use Blue stacks to play PUBG Mobile on Windows, as it is the cheapest way to install PlayerUnknown Battlegrounds on a computer and play one of the hits of the year without paying a single minute on Steam. For this reason, Tencent did not hesitate to launch its own emulator to allow us to play PUBG for free Blue stacks. Finally, it should be noted that this new version adds support for Android 7 Nougat, an expected aspect for many users.
Specifically, this new update offers us:
More accurate zoom.
Control processor adapted to MOBA.
Greater accuracy for League of Legends: Wild Rift.
Download Last Version: BlueStacks 4.260.0.1032 – Free PC Download
Free 2021
Download tags: #BlueStacks #Free #Download